Study Reveals 5 Trends will Shape Future of Retail Industry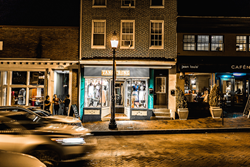 According to the National Retail Federation, retails sales over October, November, and December 2016 rose 4% over the same period last year. But the rosy numbers hide a deeper transformation underway in the retail industry.
E-commerce retailers like Amazon.com enjoyed an 11% rise in sales over 2016 while sales brick-and-mortar outlines (e.g., Macy's, JC Penny) dropped by almost 6%, according to a separate government report. Nearly all major traditional retailers (Macy's, Kohl's Corp., J.C. Penney and Sears Holdings Corp) reported a drop in holiday sales. Macy's has announced it plans to close 100 stores and cut over 10,000 jobs. Sears is planning to close 150.
What we are experiencing is the culmination of five forces with the potential to redefine the retail industry radically.
Outthinker (http://www.outthinker.com[1]), a growth strategy consulting firm serving retailers, apparel firms, and consumer products companies, recently released findings from its study of the future of retail (http://outthinker.com/2016/10/05/futureofretail/[2]). It shows five fundamental shifts, driving my new technologies and business concepts, are underway with the potential redefine the retail industry's structure. Businesses that are embracing these trends such as Amazon.com, and to a lesser extent Wal-Mart, are growing. Those resisting are contracting.
Five trends:
1. From large producers and brands to niche
2. Radically shorter design-to-deliver times
3. Toward zero inventory
4. From stores to platforms
5. From products to services
From large producers and brands to niche
As in most industries, the cost of entry and cost of scale is coming down. One no longer has to invest hundreds of millions of dollars in a factory to produce a unique item. Instead you can rent access to the tools you need. For a low monthly fee, small inventors can get access to TechShop, a national member-based chain of community workshops filled with industrial-grade machines, to produce small batches of what they need. Companies like Edison Nation help small inventors get quickly to market. They accept inventions then set their teams of patent-experts, industrial designers, and marketers to efficiently test and bring product to market, giving the inventor 50% of sales. GE Appliance has established a FirstBuild program, which gives investors access to a laboratory filled with 3D printers and manufacturing and design equipment to design innovative appliances. GE brings promising new appliances to market and the inventor gets a significant share of the profit.
Read full release at: http://www.prweb.com/releases/2017/01/prweb14001605.htm
Other bar code news: