Code Barcode Readers Certified by Verifone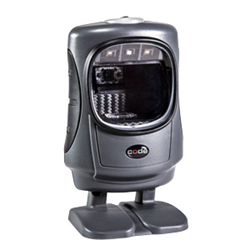 "With this certification we can provide retailers an efficient, seamless and reliable point of sale experience for their customers, said Garrett Russell", VP of sales and marketing at Code.
Salt Lake City, UT (PRWEB) February 07, 2017
Code[1] is proud to announce that their barcode readers have been certified to work with Verifone's Commander platform for Retail and Convenience Store POS Solutions.
Certification means the Code's CR5000[2] and CR900FD[3] will work seamlessly with Verifone software. "We are pleased to have our readers certified with the Verifone Commander platform," said Garrett Russell, VP of sales and marketing at Code. "With this certification we can provide retailers an efficient, seamless and reliable point of sale experience for their customers."
The CR5000 is a high-performance presentation barcode reader designed for robust retail environments, equipped with advanced data handling and optional trigger barcode reading. The CR900FD is a light, affordable reader with expandable barcode reading functionality through optional licensing. Between the two, they cover the range of retail needs.
Like all Code readers, these models feature robust omnidirectional barcode reading, with the ability to rapidly read symbologies on less-than-ideal surfaces to keep checkout lines moving. "Retailers are familiar with Code's performance standards," Russell said. "Now they can easily pair those capabilities with the market leader in retail software."
Visit http://www.codecorp.com[4] for more information on the CR950 and CR5000.
About Verifone:
Verifone is transforming everyday transactions into opportunities for connected commerce. We're connecting payment devices to the cloud—merging the online and in-store shopping experience and creating the next generation of digital engagement between merchants and consumers. We are built on a 30-year history of uncompromised security with approximately 29 million devices and terminals deployed worldwide. Our people are known as trusted experts that work with our clients and partners, helping to solve their most complex payments challenges. We have clients and partners in more than 150 countries, including the world's best-known retail brands, financial institutions and payment providers.
Verifone.com | (NYSE: PAY) | @verifone
About Code:
Code is a technology leader in image-based barcode reading solutions. Code designs and manufactures a complete line of image-based barcode reading hardware and software solutions to enhance productivity and exceed customers' expectations for superior barcode reading performance, ergonomic design, equipment durability, and seamless integration with their operations. Servicing a diverse range of industries and environments, Code's products are used in critical applications in healthcare, public safety, manufacturing, transportation, retail, and a range of other diverse industries.
Code's 2D Revolution™ image processing and decoding solution is the de facto choice for enterprise-grade barcode scanning software technology that enables rapid, accurate decoding of virtually any barcode symbology, of virtually any quality and curvature – every time without fail. As the backbone of Code's product line and with the flexibility to integrate with any device, operating system, and application, 2D Revolution ensures you can reliably capture the barcode data you need, in the way you want, at the pace your business demands. 2D Revolution is the only decoder to support the proprietary GoCode® symbology which uses encryption to secure and prevent illicit reading of sensitive data.
Code's worldwide headquarters are located in Salt Lake City, USA, and has regional headquarters in China, Singapore and The Netherlands. For more information, visit http://www.codecorp.com[5].
Share article on social media or email:
Read more http://www.prweb.com/releases/2017/02/prweb14028282.htm
Other bar code news:
The Bar Code News (www.barcode.com), now in its 8th year, does not sell software, hardware, bar code products or services - we are focused on bar code news, information and resources. Please let vendors know you've seen them on this website. Want to reach us? See the links on the Footer menu below.